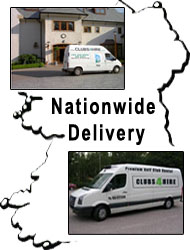 Personal Information Privacy
We have great respect for and are committed to protecting your privacy. Accordingly, we have adopted a most comprehensive Privacy Policy for your protection. We promise we will take all available and necessary steps to use your personal information only in in a manner compatible with this Privacy Policy.
Clubs 4 Hire will take all appropriate steps to keep your personal information confidential. Those steps include limiting access to customer information databases, communicating this policy statement to all Clubs 4 Hire employees and establishing and enforcing penalties for violating this statement.
Your Personal contact and company information will never be used, sold, given, or traded to any other organization, persons, or entities that exist outside Clubs 4 Hire.
Order Information Privacy and Credit Card Security
We currently use the Secure Sockets Layer (SSL) protocol to safeguard your information, including your credit card number, during on line transactions. We believe SSL to be a very safe encryption method, but we are always looking for even more secure encryption methods to safeguard information sent on line. Our server will run detection software to help ensure you are using a secure browser and your information is secure when you check out. If our server determines you are not using a secure browser, a message will appear at checkout.
For your protection, never put your credit card number or other sensitive information in unencrypted e-mail. In the extremely unlikely event that we ever do suspect a customer's credit card number has been intercepted, we will immediately notify the customer.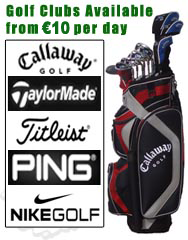 Testimonials
---
"Clubs4hire Ireland was a great alternative to paying extra airline charges, the sets where at the hotel when we arrived and in exellent condition, I will be recommending this service to my friends, Thank You,
Lars Bergman, Stockholm, Sweden
---
"I cannot recommend any service I've ever used more highly than I do Clubs4Hire. On my recent trip to Ireland this service not only saved me money, but eliminated having to drag clubs through airports. Clubs were quality, exactly as advertised, and delivered on time. Better still, I left a rain suit in the bag, and Richard and staff were kind enough to go to the trouble of sending it back to me in the States. Can't go wrong with Clubs4Hire in Ireland, they're GREAT PEOPLE!"
Brian Sams, Kentucky, USA